The Touareg Community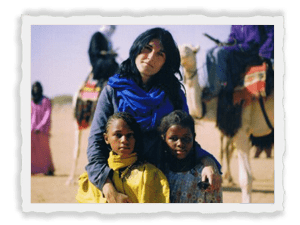 The Touareg community established itself as a cultural community whose identity revolves around a language, and is based on family and social organisation.
Touaregs are Berbers. Their language, le tamasheq outamahaq, is without doubt one of the most important berber dialects. It's only there that it's usage has been kept alive; the traditional alphabet, le tifinagh, scriptures that women were formerly responsible for handing down.
 The important place of women in Touareg an society bears witness to plenty of well-known matriarchal Berber tendencies
Eight tribes divide the people of Kel Tamasheq, people who speak tamasheq. They are:
Kel Ahaggar
Kel Ajjer (Algeria et Libya)
Kel Aïr
Kel Gress
loullimiden KelDinniq (Niger)
loullimiden Kel Ataram
Kel Tademekkat
Kel Adrar (Mali)
Touaregs number between 1 to 1,5 million individuals, who are spread out amongst 4 inland states, where they occupy an immense territory of 2 million km²
30 000 in Libya
50 000 in Algeria
500 000 à 600 000 in Mali
700 000 à 750 000 in Niger
Also constitute an ancient community in the north of Burkina Faso (20,000)
THE TOUAREG COUNTRY:
Today, the heart of Touaregs country – singular to touareg, has become obsolete – the massive mountains of central Sahara, the Tassili des Ajjer, le Hoggar, I'Adrar of Ifogha, I'Aïr (or Azbine).
Whilst having so many nomadic camel drivers, this mineral desert has few urban centres; Ghât in Libya, Tamanrasset en Algeria, Kidal in Mali and Agadez in Niger. The latter is the most important of them all, with 35,000 inhabitants, closely followed by it's neighbour, d'Arlit.